Springhill Care Group received positive feedback from its residents for the standard of care it provides in a nationwide survey.
---
Now in its fourth year, the Your Care Rating survey is the country's largest and most authoritative survey of care home residents, giving them a voice and putting their care at the heart of understanding more about how well care homes perform.
More than 20,000 residents in 963 care homes across the UK took part. Each care home was given an overall score based on resident feedback across four broad themes; Staff and Care, Home Comforts, Choice and Having a Say, and Quality of Life.
The survey was compiled by leading research company Ipsos MORI with input from the care home operators taking part, plus the National Care Forum and Care England. This means the survey is the most authoritative of its type, and is also the country's largest, capturing more views of residents than any other.
All of this year's results for every care home surveyed are displayed on the Your Care Rating website www.yourcarerating.org.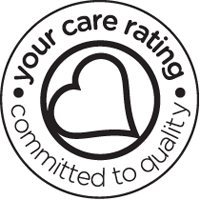 Click HERE for Springhill Care Home's individual survey results or see below for link to detailed PDF document via yourcarerating.org