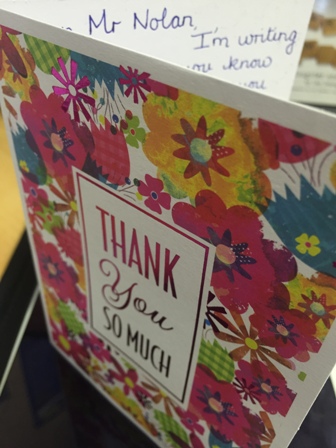 Straight From the Heart...
We constantly receive letters and cards from grateful residents and their relatives thanking us for our care. Here is a selection of the many received.
You can submit a review  for Springhill Care Home on Carehome.co.uk by clicking HERE and selecting Review or via NHS Choices by clicking HERE - Thank you
---
Review of Springhill Care Home June 2018 by AB (daughter of resident) on carehome.co.uk
The staff, from carers, nurses, ancillary, maintenance, receptionists, office staff and management are fantastic, approachable, professional and treat my mum and myself with respect, dignity and care.
I work in a care home myself and this home, Springhill, is the best.
---
Review of Springhill Care Home June 2018 by PB (son of resident) on carehome.co.uk
The care my father received in the 3 1/2 years he was there was fantastic and as good as we could have wished for. On behalf of my family, I/we cannot thank the staff enough.
How likely would you recommend? Extremely Likely
---
Review of Springhill Care Home June 2018 by CG (daughter of resident) on carehome.co.uk
Excellent care from all members of staff and management.
How likely would you recommend? Extremely Likely
---
Review of Springhill Care Home May 2018 by JB (daughter of resident) on carehome.co.uk
The grounds, building and upkeep are outstanding. Room s are spacious and peaceful and very comfortable and welcoming. Staff and chefs outstanding, polite, helpful, understanding, quick,k to patients, clean and they listen to patient and families.
How likely would you recommend? Extremely Likely
---
Review of Springhill Care Home April 2018 by AR (daughter of resident) on carehome.co.uk
Springhill is a happy place for the residents and there is always laughter and a buzz of activities going on when we have visited. I cannot recommend this care home enough. Excellent!
How likely would you recommend? Extremely Likely
---
Review of Springhill Care Home April 2018 by PH (daughter of residents) on carehome.co.uk
I cannot thank the staff enough for the care, attention and compassion they show and how they have shown dignity and respect to her (mum) and her family. It is a wonderful place with laughter and a 'family' atmosphere. Well done Springhill.
How likely would you recommend? Extremely Likely
---
Review of Springhill Care Home April 2018 by NN (son of residents) on carehome.co.uk
The staff were always friendly and respectful and the most important thing of all - they cared and showed they cared.
How likely would you recommend? Extremely Likely
---
Review of Springhill Care Home April 2018 by P M  (residents relative) on carehome.co.uk
I cannot put into enough words the gratitude me and my family feel towards your staff at Springhill Care Home, Oswaldtwistle (Accrington). I just want to say again, many thanks to you all.
How likely would you recommend? Extremely Likely
---
Review of Springhill Care Home February 2018 by R O  (daughter of resident) on carehome.co.uk
Fortunately, for us as a family, we choose Springhill. The care and support we received from the management and carers to the laundry, catering and cleaning staff was a credit to the company. It has totally changed my opinion on the bad press that care homes receive. There are excellent homes out there and this is one!
How likely would you recommend? Extremely Likely
---
Review of Springhill Care Home January 2018 by M B (daughter of resident) on carehome.co.uk
My dad was moved from hospital to Springhill Care Home.

The professionalism and care received by my dad and us (3 of us) as his family, especially in Dad's last week when we 'moved in', was beyond exceptional.

Your staff made the worst time in our lives easier (if it ever can be). Praise needs to go to all staff involved.
How likely would you recommend? Extremely Likely
---
Facebook extract of comment / post by M B (Daughter of Resident) - 23/01/2018 
My dad was transferred to Springhill from hospital in 13 Dec after being diagnosed with terminal stomach cancer. From his arrival we could not have asked for better treatment or care from the staff...
ALL the staff are amazing!!.
On NEW Year's Day, Dad started deteriorating, at this stage, it was agreed that I could stay in his room with him...ie...move in!! We were made to feel like it was home from home...use of the facilities, having meals, etc. Nothing was too much trouble for the nurses and staff.
Everyone hears bad stories about Nursing homes....It's not always the case as we have seen from personal experience!!
Thank you to everyone who made the toughest time of our lives as comfortable as possible.....if will never be forgotten!!!! People like to complain a lot these days but in Dad's words.....praise should be given where it is due and it mostly definitely is here!!!!
Thank you to everyone but especially Ruslana, Neelum, Isma & Kelley......from T O'N family......M, M & R xxx
---
Review of Springhill Care Home January 2018 by B K (Daughter of resident) on carehome.co.uk
Having visited around six care homes in the Accrington area, it was eventually decided that Springhill Care Home seemed the best option for my mother.
With hindsight, I am now totally convinced that this was the right decision. On all criteria - the quality of the accommodation, facilities and activities; the friendliness and professionalism of all the staff from the front desk to the "front line" staff who we met; and the prevailing caring and happy atmosphere - it is difficult to imagine how these could be improved upon. Above all, in the last days and hours of my mother's life, all the nursing and carer staff who were closely involved with her showed great compassion that was very reassuring.
How likely would you recommend? Extremely Likely
---
Review of Springhill Care Home January 2018 by C J  (Partner of resident) on carehome.co.uk
We are very pleased with the care my partner is receiving.  How likely would you recommend? Extremely Likely
---
Review of Springhill Care Home January 2018 by P A (daughter of resident) on carehome.co.uk
My father was a resident at Springhill Care Home for 2 years and 10 days.
The 1st year dad spent on Milnshaw and the 2nd year on Springwood. I have to commend all the staff for treating my father with extreme care and dignity. His room was always spotlessly clean and warm. I can highly recommend Springhill Care Home. My father dies in November 2017, surrounded by family the nurse on duty and 2 carers. Dad was never left alone which was one of his wishes. 
How likely would you recommend? Extremely Likely
---

All the staff go that extra mile to help your loved ones. Thank you once again, to all the staff on Springwood and Milnshaw wings for all your help and reassurance, it is much appreciated. PA
---
We are extremely grateful for the care given by all involved [at Springhill Care Home], which reflects upon the home, the management and staff. J & M
---
We would like to thank all the staff and helpers on Tree Tops for all the care and help they gave to R whilst he was in Springhill. J & Family
---
I consider myself very fortunate that both my parents were able to spend their last years at Springhill Care Home.

The first thing that strikes you when visiting the home is the quality of the building, the rooms and the facilities. Those things though, however impressive, come a very poor second to the quality of the people who work there.

A carer can be just a job title for someone who looks after people or it can be a name for someone who genuinely cares about and gets their rewards from looking after elderly people who can no longer live independent lives.

I have to say that I have been bowled over by all the people that looked after my Mum and Dad. They not only helped them with all the usual things like getting them up, washed, dressed an fed. They genuinely befriended them, laughed and joked with them, gave them outstanding care and made them feel loved and valued.

What more could anyone ask for?

I would recommend Spring Hill Care home to anyone who is in the position I was, having to accept that your parents have reached a stage in their lives where they can no longer look after themselves, but wanting the very best for them. Wanting them to be happy, to be loved and to continue to enjoy themselves.

I would like to thank Curtis, Bernadette and all the staff for looking after my parents so well and for ensuring that they enjoyed their time at Spring Hill so much.
---
Sadly my mother suffers from vascular dementia and has been cared for at Springhill for 4 months now in the dementia unit. Our family has spent a considerable amount of time at the care home whilst settling mum in during the difficult transition from home/hospital so I now feel well placed to post a review.

Whilst accommodation, standard, food, activities, cleanliness etc. are all very important, and they do very well here, the most important thing for me is how mum is looked after by the carers/nursing team. Having spent so much time at the home (often staff are unaware that I'm there and whilst sat in mum's room with the door ajar I can hear how they're interacting with other residents) I can confidently say that the staff are generally very good indeed and often outstanding. Whilst staff are inevitably going to vary in experience and ability, a sufficiently strong culture of compassionate care exists to prevent any rogue of poor quality staff from passing under the radar I believe. GW (carehome.co.uk review)
---
We couldn't have asked for a better home for mum. The staff were all totally sincere in caring, nursing, compassion and provision of dignity. Her final days were made to be calm and peaceful. The hygiene was excellent as was the ambience of the whole home. We as relatives were supported through the whole process with sympathy and kindness. Also, the security was particularly efficient. CS (carehome.co.uk review)
---
"I'm writing to let you know what wonderful staff you have a Springhill.  My Grandma was a resident in your care home for the last few months of her life.  Whilst in your care the nurses and carers were fantastic and really made my Grandma feel safe and happy.
I know many people say that 'It's what they get paid for' but they went over and beyond to make my Grandmas last few hours comfortable and dignified." JD (Residents Granddaughter)
---
"I am finally getting around to writing to thank you and your wonderful staff for your involvement with the Blackburn and Darwen Intermediate Care Service from 2012 to recently.  I especially would like to thank the "seniors" Amanda, Lou, Stacey and Tab.  They were a pleasure to work with and I am speaking for all the rest of the team when I say that we will sorely miss you.  Best Wishes" Dr M.  McC
---
"To all the lovely staff on the Treetops suite. Maureen was able to enjoy the last 4 months of her life due to the care and concern shown to her at the best care home!"  J & Family
---
"Thank you to everyone at Springhill Care Home. The way they looked after me and the care taken to make sure I was comfortable. The food was excellent and nicely presented. Although your own home is best, my stay with you was very pleasant." PA
---
"Many thanks for the caring and compassionate way in which you cared for our Grandmother whilst she lived with you." ML's Family 
---
"Just a few lines to say how wonderful it has been during my stay in Springhill. I have been brought from the depths of despair to looking forward to a bright future, all due to the marvellous members of staff you have working for you." E
---
Comment left on Springhill Care Home Facebook page by TG: We could not have wished for better care for our mum, every member of staff was so comforting, not only for our mum but for all the family, at one of the most difficult times in our lives. Springhill will always have a special place in our hearts for the loving care that our lovely mum received. Thank you.... 
---
"Springhill Care Home is a wonderful place managed by yourself Theresa, with professional care and thoughtfulness, not only to the patients but to the families as well. You have a superb staff team who have been trained to high standards, and we were privileged to have such good care for T. Many thanks. V, H, J and all the family." 
---
Review of Springhill Care Home on Wednesday 23 April 2014 by MC (Son of resident) on carehome.co.uk
The staff at Springhill are excellent. They are dedicated and professional. What really sets them apart is their kindness and compassion - they treat the residents with respect and genuinely care about them. My Mum was cared for and loved there, so much so that the staff have come to feel kind of like family - and who else do you want looking after your loved one if you can't? The surroundings are clean and tidy and the rooms are luxurious and comfortable. I always enjoyed spending time in Mum's room and felt happy to walk in bare feet to the kitchen to make a cup of tea - doesn't get more homely than that. It's all purpose built and modern, vastly superior to the many converted Victorian houses I'd previously visited. I must have visited around 10 when looking for the right place. Springhill stood head and shoulders above them all. Oh and the food is good too. If you are in any doubt about whether a care home is the right move, go and visit Springhill and save yourself the trouble of checking round everywhere else!   
---
"Following my admission to hospital, I was then transferred into your care for a period of rehabilitation, I stayed with you for almost three weeks. During this time, I found each and every one of the members of staff I came into contact with to be absolutely, totally and without exception, extremely professional, caring, patient, kind, considerate and understanding. I cannot praise or thank them enough for their constant care and help." Mr E
---
"It is true to say that how a person dies remains in the memory of those they leave behind and throughout her stay at Springhill and up to her death she was treated with dignity, respect and utmost sensitivity. In addition to this, during such a difficult time, staff support me and other key family members with the highest degree of patience, empathy and concern. The loss of a family member if always hard but with the support and expertise of such a dedicated team, our bereavement was made so much easier to bear. Thank you from the bottom of my heart." Mrs H
---
"My family and I would like to say a big thank you to everybody at Springhill Nursing Home for all the loving care that you showed to F whilst he was with you all. Thanks again". VH
---
"To all staff at Springhill. You may not realise just how special you all are but my mother certainly did. The kitchen staff with excellent food, endless cups of coffee and smiling faces. Dedicated care staff with kindness, patience and friendly banter. Nursing staff with skills, compassion and understanding. Caretakers, cleaners and anyone else my mother came into contact  with - all helped to make her last few weeks as enjoyable as they possibly could be." KL (Daughter)
---
"Dear Mr Nolan & Springhill Staff. Thank you so much for looking after my sister, EM, in the short time she was in your care. I shall always remember your kindness to her. Thanking you once again. I remain yours sincerely." NM
---
"The care mum has received over the years by the many staff who attended her has been exemplary and I cannot thank you enough for just loving her and caring for her and I want to thank you all from the bottom of my heart for you support as my 'second' family." GB and Family
---
"Just a few words to say "Thank you" for all the care and kindness shown to me during my stay at Springhill. It was almost worth breaking my hip, pelvis and right arm – just in order to get to know you all. Hope this small token of my appreciation will come in handy. Good bye now and God bless". Mrs SP  
---
"I would sincerely take these moments to say my appreciation & heartfelt thanks for the treatment from the staff, the nurses and the management. I will never forget your kindness, Thank you all."  Mr EB
---
"Elsie and family would like to say a most sincere thank you for the care at Springhill. Everyone was so kind and helpful that it made her rehabilitation so much easier - she was really impressed with the way the staff made her feel at home. Thank you and God Bless you all." Ms EB
---
"To all the staff at Springhill who so lovingly cared for my mother during the three years she spent at the nursing home. Knowing that she was so well cared for by all the staff who looked after her certainly gave her family peace of mind". Mr & Mrs R.
---
"I am taking in an arrangement of flowers and a thank you card for the staff on Treetops today when I go and visit my dad. I suddenly realised that their good work often goes un-commented on.... The thank you is extended to all staff at Springhill, admin, management, housekeepers, also for the teams of people who come in - medics, care home liaison, chiropody etc.... Me and my brother are able to rest assured about dad being well looked after.... JS
---
"I wanted to address this email to your CEO as he needs to know what wonderful staff he has working for him at Springhill. I had great trepidation when told that my mum would not be able to return straight home after her hip replacement and she would need to go into residential care for active rehab.... Joan showed us the premises after turning up on spec and gave us some background info. She is wonderful and just the type of person you need to greet people.... By the time dad was ready to be discharged from hospital but not ready for home we knew where we wanted him to stay.... The whole team including those wonderful cleaners and catering staff deserve your greatest appreciation. They all do a tough job and they do it well, with care, thoughtfulness and with an attitude that 'you matter to me'". DW on behalf of the whole family.
---
"Thank you all so much for looking after mum, and me, so wonderfully well... Thank you all, reception, housekeeping staff, kitchen staff, carers, nurses and managers. I cannot praise Springhill highly enough for providing professional and compassionate care...." RW
---